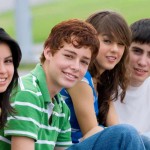 Your Question: I don't have many friends, and one of my friends moved. I only have a few friends at school. I don't want to go into the lunch room at school and sit all by myself. What should I do, and how do I make more friends. I want to be more confident, outgoing, and social, not shy.
-Musicgirl
Dear Musicgirl,
I remember the lunchroom scene well. During my sophomore year of high school, none of my friends were in my lunch period, and it was the most stressful part of my day. I was always really anxious about who I was going to sit with and what we were going to talk about. Eventually, I realized that if I wanted someone to sit with, I was going to have to make the first move.
You see, to have friends, you have to be a friend. And to become a friend, you have to put yourself out there. By that, I don't mean you have to randomly text total strangers in your grade, but find little ways to start talking to new people.
Maybe your teacher assigns a group project. Ask someone you want to get to know if you can be her partner, and suggest you study at coffee shop one afternoon. Make the project an excuse to hang out and get to know each other better. You might find out you have a lot in common.
Or maybe there's a club or group you could join to meet some new friends. I know it sounds overwhelming to walk into a room where you don't know anyone, but if you like music, see if there's an afterschool band that needs a new member. Or if you like writing, try to write a story for the school paper. There are a lot of ways to meet new people once you start looking. And while it's always scary to put yourself out there, you just have to take a deep breath, remind yourself that these people would be lucky to be your friends, and go for it. After all, how many people don't want a new friend in their lives?
One important thing to remember: When it comes to friends, a few real friends — the kind you can open up to and talk about everything, even if they aren't in your lunch period — are a million times better than a lot of fake friends. So be sure to value the friendships you have and let your true friends know how important they are to you.
Let me know how it goes in the lunchroom!
xxx
Sarah